Mission Statement
Boxer offers CNC router cutting services for customers seeking a reliable supply of high-quality, precision-cut parts. Our focus is the CNC machining of non-ferrous panel materials to customer specifications, on-time and with minimal waste. Where possible, we will tailor our processes to individual requirements, with the aim of building long-term customer relationships.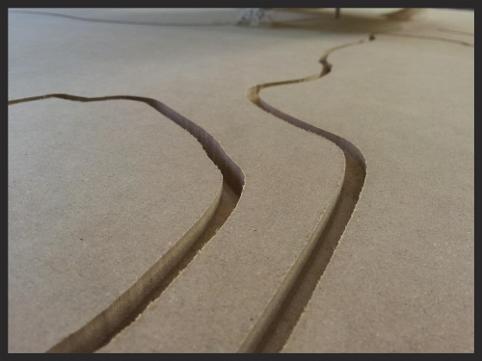 What It Takes for a great CNC job!
Software- Our custom CAD/CAM software chain makes creating and proofing designs fast and accurate. The same model we use to create customer drawings is converted and used directly by our machine. This leaves very little possibility of error via improper versioning or duplicate specifications. Boxer is a licensed user of SolidWorks professional CAD software, which allows us to import nearly any major CAD format your current files are in. We also use cutting-edge CAM software to quickly organize or "nest" your parts in the most efficient configuration. Yield is optimized, parts are cut accurately and you receive the best value for your money.
Machinery
Our 5'x10'
Thermwood CNC router is a high-quality, well made, and heavy machine (
10,000 lbs!)
. The extra weight reduces vibration which improves accuracy, saves tools and reduces "chattering" or small bumps along the surface. The router features a
10HP head to cut
through hardwoods, laminates and plastics with ease. A 7-station tool changer and automatic measuring system keeps setup time to a minimum, while an 18HP vacuum pump holds material in place without requiring jigs or a pin-type system. Our gantry and bits can accommodate material up to 3" thick. Our equipment is well-maintained and staff perform regular checks to ensure machinery is kept in optimal condition.
Cutting
While a robotic process, CNC work is far from
"set it and forget it". Boxer maintains a database of feed and speed rates for the various materials we cut, cross-referenced with edge quality results, optimal bits to be used, and special notes on dealing with all sorts of issues from chipping to bit clogging to sheet size and handling requirements. We are constantly learning new techniques and improving old ones, and monitor our process constantly.
Inspection As parts are cut they are labeled (if requested) inspected for blemishes, edge quality and dimensional accuracy. After inspection, parts are packed on skids or into boxes. Any special customer requirements are noted and attended to by our dedicated staff. We work hard to set and follow specific operating codes to deliver great quality parts.
Shipping You may pick up your parts from our Pickering, ON plant or take advantage of our prepaid courier service to deliver your parts anywhere within the Greater Toronto Area for a nominal fee. We have agreements with LTL carriers for Canadian and international destinations if required.

Our History
Boxer CNC is a brand of Boxer Custom Cases Inc. Our CNC business was launched when customers began asking if we could offer the same service, speed and accuracy with panel cutting as we do when manufacturing our ATA shipping cases. We took them up on the challenge and now consider CNC cutting an important part of our business.
In 2006, Boxer purchased state of the art CNC machinery and software to support our case manufacturing business. Since then, we have continuously updated our software, improved our tooling and hold-down processes, and documented the many variables that come from cutting a range of materials for our internal needs and for our customers.
In turn, our CNC clients receive the full benefit of our investment. The remarkable CAD/CAM/CNC conversion chain we have developed allows Boxer to turn concepts into reality very quickly and without the high setup fees typically associated with CNC cutting. We are also able to layout or "nest" parts quickly and in the most economical manner possible, reducing material requirements. Due to the weight and accuracy of our Thermwood router, we can cut very quickly while maintaining excellent edge quality. Finally, our detailed experience-based quoting process takes allows us to very accurately predict job times, making for an accurate production schedule. We work closely with our customers to guarantee work is done accurately the first time, every time.

Boxer CNC specializes in cutting wood and plastic parts for products in a wide range of industries. We have cut parts for trade show booths, kitchen cabinetry, bathroom vanities, upholstered furniture, speakers, store fixtures, retail interiors, architectural features, garden sheds, carved signage, physiotherapy tables, bar stools, portable bars, photo booths, translation booths, shelving, guitars, shop benches, cutting boards, knife blocks, picture frames, real estate signs, children s puzzles, bookcases and cabinetry components.
Our customers include medical supply companies, industrial concerns, OEM manufacturers, general contractors, Do-It-Yourself (DIY) hobbyists, scientific research laboratories, store fixture manufacturers, tool and die makers - the list goes on and on. We're flexible, and willing to look at new materials and techniques to bring our customers the products they need on time and to specification.
As we grow, Boxer CNC plans to offer more types of cutting services for an even wider range of materials and applications. Contact us before you start your next project, and see for yourself the value we can add and stress we can remove.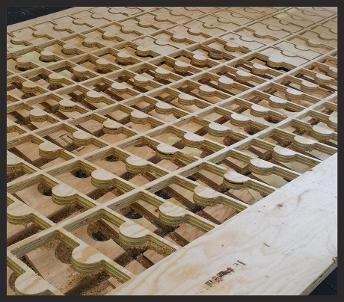 Benefits and Advantages Of Using Boxer CNC:
Your cutting costs become fixed and predictable
You will receive identical parts, batch after batch

We do all the work of laying out your parts for the best yield
We use top-quality cutting bits to ensure edge quality is consistent

You will save hours in labor costs by allowing our router to cut unusual angles, drill holes and pocket surfaces

You can save money by hiring assemblers instead of carpenters or fabricators to finish projects

No need to build a jig for your project or waste time creating, cataloging and storing templates
No knowledge of CAD, CAM, G-Code or other computer programming languages necessary
For most materials, smooth-edged panels can be sent directly to an edge bandier, bypassing hours of sanding

You will not fill your shop or home with dust or spend thousands on anti-static air circulation and dust collection systems
No need for the substantial investment required to purchase your own CNC router